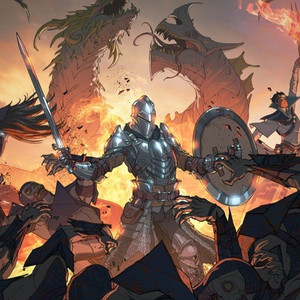 Bioware says it can now be played from start to finish.
Bioware boss Gary McKay could this week reveal that Dragon Age: Dreadwolf has reached the alpha stage of the game's development. The developer can thus play through the adventure from beginning to end – an important phase of the development process.
Until now, we have worked hard on the various parts of the game, but it is not until you reach the alpha stage that a game starts to take shape. Now, for the first time, we can experience the entire game, from the opening sequences of the first mission all the way to the end. We can see, hear, feel and play everything as a cohesive experience, McKay said in a blog post on EA's website.
The developer explained that there is still a lot of work to be done before Dragon Age: Dreadwolf is complete. Work on graphics and the visual aspects of the game remains, and the team is still adjusting various game mechanics. Now that the team can play through the entire adventure, they can also embark on a proper review of the overall.
Now we can evaluate the pace of the game, how relationships develop over time, the player's progression, as well as the narrative cohesion – i.e. how the story is connected, McKay explained.
In the blog post, McKay also hinted at new areas in Dragon Age: Dreadwolf. Among other things, players will finally get to explore Minrathous – the capital of the Tevinter empire – which has been featured in previous Dragon Age games, but has not been possible to visit until now.
Dragon Age: Dreadwolf has not yet been given a release date.